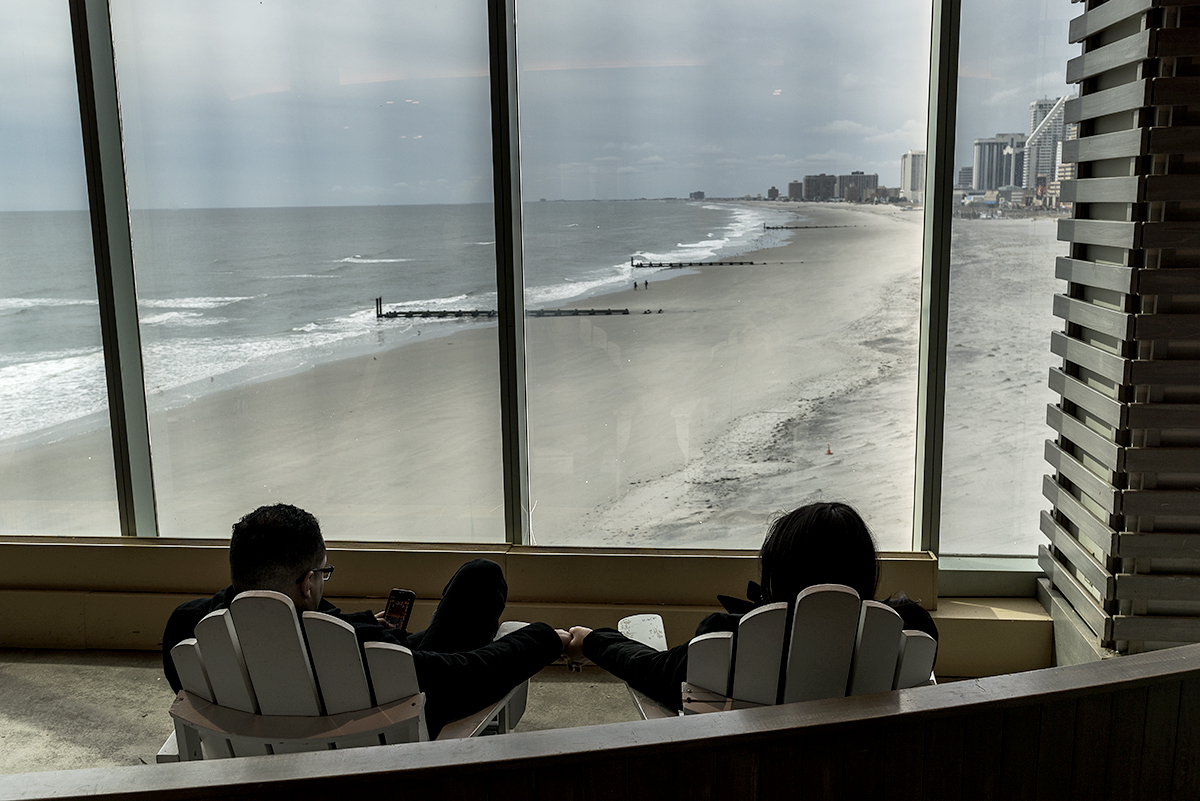 A ROMANTIC DAY OUT ON THE BEACH IN 2019
Atlantic city, February 2019  ©Arte Di Tre studio
A symbolic snapshot of our modern reality.
They are together, only that they are not.
They are holding hands to silent their conscience and conform with the given social rules on a couple's way of hanging out, while watching photos of their "friends" doing exactly the same somewhere else. All well informed about each other's "social life", feeling good about themselves building a fun, lovable, sociable, adventurous profile for whoever checks on their "healthy modern normality".
They are on the beach, only that they are not.
"Beach chairs", sand-feel floor and a huge glass wall for an unrestricted view to the ocean. That should be enough for a life-like beach experience leaving aside all the"bad" stuff: sandy and dirty shoes, messy hair from the wind, cold uncomfortable bodies…
Why bother when any experience today is offered effortlessly and well-filtered from reality's "discomfort"?
We are living through a second big bang that is turning the world from real to cyber. And the truth is that nothing and nobody can stop "evolution". And either evolution is good or bad is an endless and eternal discussion we are not going to solve here. The thing is that next generations probably won't really know what they are missing so as to look for it. They will have already been born in a cyber world and most of their experiences will probably be iconic. They won't know about the smell of the ocean, the freezing cold wind on your cheeks and the sand on your feet. There will be statistically personality-matching couples over flirting and heart-broken stories. It's sad but it is what it is.
What is a lot sadder is that our generation chooses this "new reality" over the one we grew up in and hide behind adaptation. Adapting is important. But having known the real world experiences and choose the cyber ones over them, is pathetic.